U.S. Statement on the Election of the ILO Governing Body for 2021-2024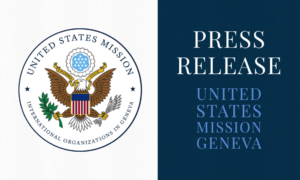 U.S. Statement on the Election of the ILO Governing Body for 2021-2024
The International Labor Organization (ILO) brings together governments, employers, and workers from around the globe in pursuit of social justice and decent work. It sets international labor standards and promotes respect for fundamental worker rights, including freedom of association and collective bargaining, the elimination of forced labor and child labor, and non- discrimination in employment.
Respect for these principles and rights is a cornerstone of just and democratic societies.
The ILO Governing Body plays a vital role in the mission of the ILO, and its members must share a commitment to protecting these fundamental worker rights, as reflected in the ILO Declaration on Fundamental Principles and Rights at Work.
While the United States does not vote in the election of the Governing Body, we stress that all Governing Body members must uphold the values of the ILO, including respecting labor rights, and that the labor rights practices of candidate countries are relevant to consideration of their candidacies.