U.S. Explanation of Vote – U.N. Human Rights Council Special Session on Burma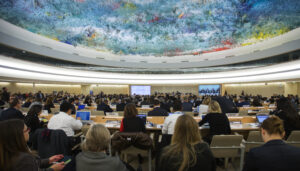 Ambassador Kelley E. Currie
U.S. Representative to the U.N. Economic and Social Council
Explanation of Vote
U.N. Human Rights Council Special Session on Burma

December 5, 2017
1. We are pleased to have cosponsored and voted for this important resolution, and we thank Bangladesh for their leadership in bringing this resolution forward. At this time, we would like to offer these general remarks clarifying several paragraphs in the resolution about which we have concerns.
2. Regarding Preambular Paragraph 11, we note that this paragraph is a restatement of the conclusions of a UN report and does not constitute a legal finding that crimes against humanity have been committed.
2. Regarding Preambular Paragraph 15, the United States believes that the lack of citizenship status and related civil and political rights for Rohingyas and others in Myanmar is a serious human rights concern.
3. Regarding PP17, we would note that the Government of Myanmar investigative commission referred to here has already completed its work, the conclusions of which we do not view as credible. We continue to encourage the establishment of a credible independent body to investigate allegations of human rights violations and abuses without delay. Myanmar cannot hope to move past this crisis as long as it continues to deny allegations of serious violations of human rights and refuses to end impunity for such abuses.
4. Regarding OP12, we call upon both the governments of Myanmar and Bangladesh to implement any repatriation agreement in full cooperation with the United Nations High Commissioner for Refugees and other relevant international organizations and in accordance with international law and standards, including the principle of non-refoulement.
5. We note that constitutional and security sector reform are key to implementing sustainable solutions to the many challenges now facing the people of Myanmar, and we will continue to support their efforts to overcome these challenges, and urge them to recognize how the treatment of the Rohingya endangers the future of their democratic project.
Thank you.