Remarks by Ambassador Keith Harper at 4th of July Celebration
Independence Day Celebration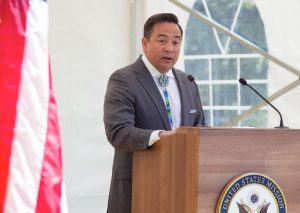 Remarks of Ambassador Keith M. Harper 
Permanent Mission of the United States
Geneva,
July 8, 2016
– As Prepared for Delivery –
Colleagues and Friends,
On behalf of the Permanent Mission of the United States, let me add my personal welcome.  As Ambassador Hamamoto's eloquent remarks made clear, we recognize the challenges in our collective history as a Nation. However, as Pamela also notes, among the defining features of America is our ability, as a Nation, to change, our ability to strive for more and better, to reinvent.  It is indeed a constant and never-ending pursuit to perfect the Union begun 240 years ago.
And from darker days for certain communities, with this ability to evolve, with this perseverance to seek higher ground, we have consistently emerged a stronger Nation. A more inclusive Nation.  And a Nation of great diversity, all proud of our allegiance to the Stars and Stripes.
I believe this reflects the story of Native America as well, the Tribal Nations which are such an important part of the fabric of the United States. Indian Country is a place fiercely protective of their traditions and deeply proud of its rich heritage.  But while this history is rich, a history that is a firm foundation of the future, it does not handcuff.  Native America possesses a living culture of the here and now.
Because of the complex history though, when abroad I often see a focus on that history; of the tragic experiences of our forbears during a long cycle of contact, the often devastating consequences of failed governmental policies, but also the beauty of the ways and traditions of those ancestors, as well as the bravery in fighting to preserve those ways, those traditions as well as the inherent right to determine their own future.
The challenge is that one might leave with the mistaken impression that Native peoples are somehow mere relics of a bygone era; that Native peoples come from a static culture; that Native peoples are part of the history of America; that the "disappearing race" – as some scholars called American Indians in the end of the 19th Century – actually disappeared.
But we did not.  Native people are resilient people.  The story of the American Indian and Native Alaskans is not one of mere survival. It is a story of struggle and courage. It is a story of resurgence.  It is a story of reinvention. It is a story of vibrant and living cultures.  From that time when Tribal peoples were "disappearing" in the late 19th Century – indeed less than 300,000 Indians remained in the United States – to today, when according to the 2010 Census, the number is now 3 million and growing.
There are more than 560 federally recognized tribes across the United States, in every region.  We have tribal governments with police forces, tribal courts, tribal legislative bodies, tribal fire departments, all nature of Social Services. Tribes do what other good governments do – they serve the people. They often run their own schools, educating tribal children. Tribes run tribal colleges, educating their young men and women.
These tribal communities own incredibly successful businesses. more every year.  The Puyallup Tribe represented here today has a successful fishing operation and the Tribe owns a Marina in their homeland around Tacoma, Washington among many other successful ventures.
Every year, since the start of his Administration, President Obama hosts a full day meeting with Cabinet members and invites every tribe to send a representative.  There is a frank discussion on how to work collaboratively on a nation-to-nation basis to more effectively and appropriately address on-going challenges and build stronger tribal communities.  Because stronger tribal communities means a stronger United States.
That is not to say, there are not continuing challenges. There are, of course.  But I've travelled enough to Tribal Communities throughout America to know the future of Indian Country is bright.  In many ways, Native America is undergoing a cultural, linguistic, political and economic renaissance.
Which brings us back to this performance today.  In the dance and in the song and in the drum, you will see a celebration of the beauty of Native ways. You will see a stubborn attachment to tradition, without resistance to innovation and reinvention. This is a celebration of living traditions. Curtis photos of Native Peoples from the 19th Century are terrific.  But today, today, we celebrate the here and now. Today we celebrate contemporary Indian Country in song and dance.
We will share with you performers from three different traditions.
Our first group of dancers in the Puyallup Canoe Family, here with the generous support of the Puyallup Tribe.  We want to thank Chairman Bill Sterud, the entire Puyallup Tribal Council and especially Councilman David Bean for their support that permitted these dancers to share their traditions with you.
The Puyallup Tribe hails from the beautiful Puget Sound region of Washington State.  Every year, the tribes in the Great Pacific Northwest join each other in a Canoe Journey that is indeed a sight to behold. This is one of the families who participate.
Next, we will have Native Footprints – a sampling of Pow Wow dancing. One thing many tribal peoples do in the Spring and throughout the Summer is go to Pow Wows. These are gatherings – usually intertribal – events of song, dance, competition, artistry. Among the most important and special Pow Wows of the Year is the Gathering of Nations Pow Wow in Albuquerque, NM.
Thousands of dancers from all over North America participate. Well, from the Gathering of Nations comes Native Footprints Performers.
We want to thank the Dennis and Phyllis Washington Foundation for their generous support.
Finally, returning to Geneva are Nakotah LaRance and Steve LaRance.  They hail from the Southwest of the United States.  Nakotah is the reigning National Champion Hoop Dancer.  Accompanying Nakotah, is his father, the renowned jeweler, artist, flutist and singer, Steve LaRance.
Without further ado, please join me in welcoming to the stage, the Canoe Family from the Puyallup Tribe.