Tragedy of Orlando Should Also be a Call to Action to End Violence and Discrimination Against LGBTI Persons
Item 8 General Debate on the Vienna Declaration & Program of Action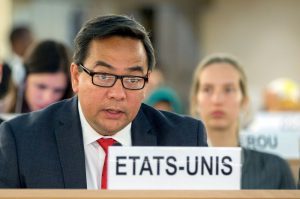 Statement of the United States of America
32nd Session of the UN Human Rights Council
As Delivered by Ambassador Keith Harper
U.S. Representative to the Human Rights Council
Geneva, Switzerland,
June 28, 2016
Thank you Mr. Vice President.
The Vienna Declaration recognizes "that all human rights derive from the dignity and worth inherent in the human person," and expresses concern over discrimination and violence around the globe.
On June 12, a terrorist inflicted such violence when 49 people were killed and over 50 wounded in an attack that targeted the lesbian, gay, bisexual, transgender, and intersex community at a nightclub in Orlando, Florida.  This heartbreaking event reminds us that violence and discrimination based on sexual orientation and gender identity is not unique to one country, one region, or one culture.  It is found in every region of the world.
Many nations represented in this Chamber expressed your condolences after Orlando and the United States is indeed grateful.  We hope though that the tragedy will also be a call to action.  We should protect the dignity and human rights of all.  We must acknowledge that there is violence and there is discrimination against people because of their sexual orientation and gender identity.   And as a Human Rights Council we should seek to end such violence and discrimination.
LGBTI persons are entitled to the same human rights as all other people.  After all, we are talking about people – human beings.  People like you and me.
We must live up to the Universal Declaration's opening line that all persons are born free and equal.  No person can or should be excluded from this assertion. Orlando should serve as a tragic reminder that we have much more work to do.
Thank you Mr. Vice President.