UN Report Highlights Ongoing Human Rights Violations by Asad Regime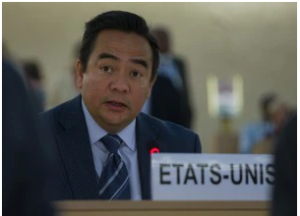 Interactive Dialogue on the Commission of Inquiry on the Syrian Arab Republic
Statement by the Delegation of the United States of America
As Delivered by Ambassador Keith Harper
U.S. Representative to the Human Rights Council

UN Human Rights Council – Geneva
September 16, 2014
Mr. Vice President,
The U.S. welcomes the latest report by the Commission of Inquiry, which continues to highlight the ongoing violations and abuses of human rights and international humanitarian law carried out by the Asad regime and associated militias.
The COI also documents the mounting abuses and violations committed by ISIL, including mass killings, rape, torture, public executions, and abductions – all gruesome acts that we forcefully condemn.
The recent murders of American journalists James Foley and Steven Sotloff  by ISIL are a tragic reminder of the increasing dangers journalists face every day in Syria.  We echo the UN Security Council's statement following the killings of American journalists and the British aid worker and demand that all parties to the armed conflict comply fully with the obligations applicable to them under international humanitarian law.
The Asad regime's violations described in the most recent COI report include murder, hostage-taking, enforced disappearances, torture, rape, sexual violence, targeting civilians, and indiscriminate bombing.  The regime continues to imprison tens of thousands of individuals, many arbitrarily, and subjects many to torture, sexual violence, inhumane conditions, denial of fair trials, and execution.  These prisoners include women, children, doctors, humanitarian aid providers, human rights defenders, journalists, and others.  An estimated 215,000 persons have been detained, including 35,000 political prisoners.  We continue to call for the immediate release of human rights defenders including Mazen Darwish, the head of the Syrian Center for Media and Freedom of Expression.  We also demand the release of activists abducted by anti-government armed groups. This includes Razan Zeituneh, who has played a critical role as the founder of the Violations Documentation Center.
Syrian groups also estimate at least 85,000 persons have been forcibly disappeared. Could the commissioners elaborate on the current status of the hundreds of people who have, according to the Syrian Network for Human Rights, disappeared following ceasefire agreements with the Asad regime in Homs?
We call on all parties to the conflict to immediately release all arbitrarily detained persons and political prisoners.  Furthermore, we urge the Asad regime to allow immediate, unfettered access by international monitors to all detention facilities.
We applaud the Commision's accomplishments, which it has achieved  despite repeated denial of access by the Asad regime.  We also applaud the courageous Syrian human rights defenders who, despite grave risks, continue to document atrocities committed by all sides and share their findings with the international community.
The atrocities in Syria demand a response, the victims deserve justice.