Deputy Assistant Secretary Paula Schriefer: Opening Remarks to CERD Committee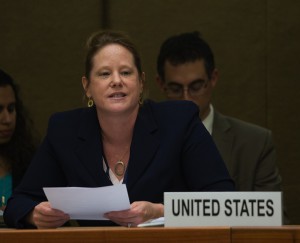 OPENING REMARKS BY DEPUTY ASSISTANT SECRETARY
PAULA SCHRIEFER
U.S. Presentation to the Committee on the Elimination of Racial Discrimination
concerning the U.S. Report on the Elimination of Racial Discrimination (CERD Report)
August 13, 2014
As Delivered
Mr. Chairperson, distinguished members of the Committee, esteemed representatives of civil society organizations, ladies and gentlemen:
I am Paula Schriefer, Deputy Assistant Secretary for the U.S. Department of State Bureau of International Organization Affairs.  I am very pleased to be here with the U.S. delegation to discuss United States implementation of the International Convention on the Elimination of All Forms of Racial Discrimination, especially as this year marks the 20th anniversary of when we ratified the Convention back in 1994.  The composition of our delegation is a testament to the seriousness with which my Government takes this presentation.
Our delegation represents nine (9) agencies of the U.S. federal government, as well as two distinguished representatives from state and local governments, with which the federal government shares responsibility for implementing U.S. obligations under the Convention.  Let me now introduce the members of the delegation that will be addressing you today:
From the Department of State:
Sabeena Rajpal, Acting Assistant Legal Adviser for Human Rights and Refugees;
Scott Busby, Deputy Assistant Secretary for Democracy Human Rights and Labor
From the Department of Justice:
Loretta Lynch, U.S. Attorney for the Eastern District of New York;
Mark Kappelhoff, Deputy Assistant Attorney General, Civil Rights Division;
Karen Stevens, Senior Counsel and Director of International Programs, Civil Rights Division
From the Department of Education:
Catherine Lhamon, Assistant Secretary for Civil Rights
Dustin McDaniel, the Attorney General of Arkansas
William Bell, Mayor of Birmingham, Alabama
From the Department of Housing and Urban Development:
Bryan Greene, General Deputy Assistant Secretary, Fair Housing and Equal Opportunity
From the Department of Interior:
Lawrence Roberts, Principal Deputy Assistant Secretary, BIA
From the Department of Homeland Security:
Veronica Venture, Deputy Officer for Civil Rights and Civil Liberties;
Alanna Ow, Principal Director for Immigration Policy, Office of Policy
From the Department of Health and Human Services:
Dr. Nadine Gracia, Deputy Assistant Secretary for Minority Health;
Dr. Cara James, the Director of the Office of Minority Health at the Centers for Medicare
From the Department of Labor:
Jane Garrido, Attorney, Solicitor's Office
From the Environmental Protection Agency:
Daniel Gogal, Environmental Protection Specialist, Office of Environmental Justice
Over the next two days, you will hear from my colleagues on the delegation about the specific efforts our government is making to eliminate racial discrimination and to address disparities faced by racial and ethnic minorities in the United States.  I would like to say a few words about how we have also tried to improve the mechanisms through which we promote compliance with our human rights obligations domestically, a topic that we know is of particular concern to the Committee.
Over the last several years under active White House leadership, the State Department has worked closely with many federal agencies and others to reinforce the importance of human rights obligations, including those set forth in the Convention, in our daily work implementing domestic laws and policies. The reporting processes for the Convention and other human rights treaties, as well as the Universal Periodic Review, have helped create a core network of officials throughout the federal government who spread awareness of human rights obligations within their agencies and with other stakeholders.     Through mechanisms such as the Equality Working Group, co-chaired by the Departments of State and Justice, we are trying to leverage that increased engagement to focus on concrete issues of implementation, not simply reporting.
At the same time, given our federal system of government, implementation of our obligations under the Convention must be a true collective effort among federal, state, local, tribal, and territorial governments.  Communication and coordination with these federal government partners is critical, and we have stepped up efforts in this regard significantly since our 2008 presentation before this Committee.  In particular, we have increased our communications with state, local, tribal, and territorial governments, both by providing information related to these treaties and their requirements, and requesting information relevant to implementation.  The presence of the Attorney General McDaniel and Mayor Bell today is one testament to this improved outreach.
We have also worked to improve our outreach to the public and coordination with members of civil society, who serve as vital partners and constructive critics in the implementation of our obligations.  In addition to making public extensive amounts of information about our treaty obligations and reporting activities, U.S. agencies engage in an ongoing dialogue with civil society.  We have held several consultations with civil society specifically about our recent periodic report, and we look forward to future consultations.  We greatly appreciate the efforts of civil society to coordinate and organize their concerns and recommendations, which inform our consideration of actions our government should take to improve implementation of our obligations.
We look forward to our dialogue with the Committee today and tomorrow, and are eager to hear and respond to your questions.  Thank you again for this opportunity to discuss these critical issues.
I now invite the U.S. Attorney for the Eastern District of New York, the Honorable Loretta Lynch, to make additional remarks.