By Kathryn McConnell
IIP Staff Writer
Washington,,
25 November 2013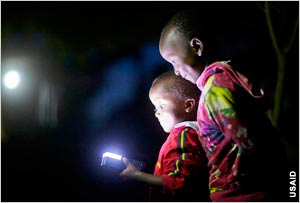 The U.S. Agency for International Development (USAID) has launched an initiative to spur the development of promising, high-growth and financially sustainable entrepreneurial ventures that have the potential to lift less-advantaged communities out of poverty.
Through its Partnering to Accelerate Entrepreneurship (PACE) Initiative, USAID will invest up to $10 million over three years to identify, test and put into operation concepts that accelerate the growth of small businesses that promote prosperity and address development challenges in areas like food security, health, education and energy.
The partnership aims to catalyze the development of entrepreneurial systems in certain industries and geographical areas, USAID says.
"USAID recognizes the value in supporting entrepreneurs who advance market-based solutions using sustainable business models," Ricardo Michel, acting director of USAID's Office of Innovation and Development Alliances, wrote November 21 on the agency's blog.
According to USAID, while more than 400 million people in developing countries are estimated to work as entrepreneurs, entrepreneurship has not reached its full potential in most of those countries largely because entrepreneurs are prevented from accessing the resources they need to start new ventures, refine their business models and become profitable.
"Our role is to help remove barriers that stand in the way of entrepreneurs starting and scaling their businesses, while also addressing market failures that limit the inclusion of poor and vulnerable populations," Michel wrote.
"Our investments address common challenges facing entrepreneurs such as a lack of access to capital; limited availability of technical assistance; mentoring and peer networks; and a lack of awareness among investors regarding investment-ready enterprises," USAID says.
USAID has issued an open call for entrepreneurship concept papers that address PACE objectives. USAID intends to invest with partners in select programs, the agency said.
The Obama administration supports entrepreneurial ventures in developing countries as critical engines of economic growth by driving innovation, creating industries and promoting new jobs, according to a USAID fact sheet.
"In the last 20 years alone, human ingenuity and entrepreneurship around the world have reduced child mortality rates by 42 percent and poverty rates by 48 percent — lifting over 600 million people above the dollar-and-a-quarter poverty line," said USAID Administrator Rajiv Shah.
Since 2001, USAID has enabled more than 1,500 public-private partnerships with an estimated value of more than $20 billion in public and private funds, the agency said.
USAID also recently announced a $4 million partnership with several U.S. foundations to invest in young social entrepreneurs in developing countries with ideas for solutions to development challenges.
More information about PACE is available on USAID's website.