Washington — "Nations must speak with one voice," President Obama has urged, "our children are not for sale."
And now U.S. government agencies, after years of having operated separate programs to fight human trafficking, are joining forces to more effectively work to end the exploitation of vulnerable children, says Kathleen Sebelius, U.S. secretary of health and human services.
Although the U.S. government has worked for decades to strengthen work being done by outside groups to fight child trafficking, it lacked internal coordination, Sebelius acknowledged May 1 in remarks to the Advisory Council on Child Trafficking, an all-volunteer bipartisan group of women who are committed to finding cost-effective, evidence-based solutions to domestic child trafficking.
"The Justice Department handled enforcement, Homeland Security handled international components, our department [Health and Human Services] handled victim services, and so on. The result of that was that we weren't being as effective as we could be," she said. "So we knew that we had to change our approach."
"We started," she said, "by ensuring that child trafficking was a priority issue across the federal government. We've stepped up our collaborative efforts, and will soon be hosting regular meetings to strengthen coordination between federal agencies."
On the local level, Sebelius said, the federal government is increasing its coordination with nongovernment groups to draw attention to the crisis of child trafficking. "We've also provided in-person training to help empower nearly a thousand front-line responders, in addition to webinars, workshops, videos, newsletters," she said.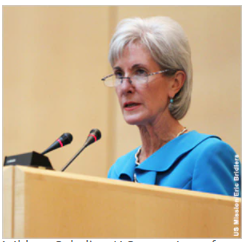 Sebelius said U.S. government agencies are continuing to strengthen their capacity to identify and respond to victims of child trafficking who enter the United States from abroad. More than 700,000 public awareness materials have been distributed by the U.S. Office of Refugee Resettlement, she said.
"Right now, all unaccompanied children who immigrate to the United States alone, and who are placed in our Office of Refugee Resettlement shelters, are screened for trafficking," Sebelius said. "Last year, 13,600 children were screened. And that number will be even greater this year. When we identify trafficking victims through screenings, we're able to reach them right away with critical services to help them rebuild their lives. And the stronger our capacity is to identify victims, the closer we come to ensuring that every victim is treated, empowered, and put on a path back to a healthy life."According to the United Nations Children's Fund (UNICEF), an estimated 5.5 million children worldwide are victims of forced labor and child trafficking. Thousands of children are trafficked in the United States. The U.S. Department of Justice estimates that as many as 300,000 children are at risk for sexual exploitation each year in the United States.
"The cruelest aspect of child trafficking is the way it can erode children's sense of their own humanity," Sebelius said. "When young people are treated as less than human by the adults around them at an age when those cues matter so much, they often can't help but take that message to heart. Through these public awareness efforts and trainings, we are helping ensure that survivors hear a very different message about their fundamental value as human beings."
"We live in an age when few issues are black and white, but there is no gray area when it comes to the incomprehensible evil of child trafficking," Sebelius said. President Obama, she said, has made it clear that his administration is committed to being a leader in a multidisciplinary, partnership-based effort to end this scourge.
Learn more:
See the full transcript of Secretary Sebelius' remarks at the Health and Human Services website.
To learn what the U.S. Agency for International Development is doing to encourage greater awareness among students about human trafficking, see ChallengeSlavery.org.