USTR Kirk Visits Vietnam, Cambodia to Strengthen U.S.-Asia Trade
By MacKenzie C. Babb
IIP Staff Writer
Washington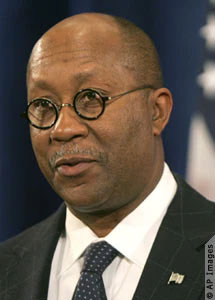 September 4,  2012
U.S. Trade Representative (USTR) Ron Kirk concluded meetings with Vietnamese President Truong Tan Sang, Deputy Prime Minister Vu Van Ninh and other senior officials in Hanoi that covered the U.S.-Vietnam economic relationship as well as regional trade and investment ties.
"The bilateral relationship between the United States and Vietnam has grown rapidly into a robust and mutually beneficial one," Kirk said in a September 3 statement.
The representative said his meetings with top Vietnamese officials offered "an opportunity to further this relationship significantly."
Kirk's visit included talks with Vietnam's Minister of Industry and Trade Va Huy Hoang and Minister of Agriculture and Rural Development Cao Duc Phat.
In addition to enhancing bilateral ties, U.S. and Vietnamese leaders discussed their continued support for concluding the Trans-Pacific Partnership, a regional trade agreement currently under negotiation by the United States, Vietnam and seven other Asia-Pacific nations.
"Now is the time to make the decisions necessary to bring the TPP to fruition as a high-standard, 21st-century agreement that will benefit all partners," Kirk said. "I am pleased that Vietnam shares our eagerness to make progress at this month's round of talks."
The 14th round of Trans-Pacific Partnership negotiations will take place September 6–15 in Leesburg, Virginia.
Kirk's talks with Vietnam's leaders also covered objectives in the Asia-Pacific Economic Cooperation (APEC) Leaders Week, held September 2–9 in Vladivostok, Russia. His office said the United States is committed to achieving several key steps during the meeting, including an agreed list of environmental goods and services targeted for tariff cuts in the region.
Ahead of his trip to Vietnam, Kirk visited Cambodia. There, he reiterated President Obama's intention to deepen and strengthen trade and investment ties between the United States and Southeast Asia. His comments followed the close of economic ministerial meetings of the Association of Southeast Asian Nations (ASEAN) and the first-ever U.S.-ASEAN Business Summit.
"The United States' commitment to the ASEAN region is long-term," Kirk said in an August 31 statement. "The ASEAN countries together are already a major trading partner for the United States, but we — and the American business community — see enormous potential to grow our mutual trade and investment as ASEAN pursues its own objectives of liberalizing trade in the region, harnessing the digital economy and reducing economic disparities among its members."
While in Siem Reap, Kirk met with Cambodian Minister of Commerce Cham Prasidh to begin exploratory discussions on a potential bilateral investment treaty (BIT).
"A bilateral investment treaty between the United States and Cambodia would encourage investment by improving investment climates, promoting market-based economic reforms and strengthening rule of law," Kirk said. "Our decision to explore this possibility highlights progress made by Cambodia in fostering a policy environment that treats private investment in an open, transparent and nondiscriminatory way."
The BIT would provide binding legal rules regarding each country's treatment of investors from the other country, providing new improvements and protections for investors.
The United States currently has more than 40 BITs in force with countries around the world.