EU, U.S. Begin Streamlined Trade of Organic Products
Washington,
June 5,  2012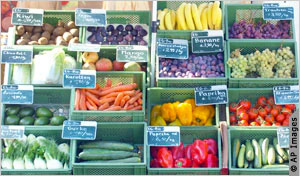 Organic products certified in the United States or European Union may now be sold as organic in either market, as trade opened up June 1 under a new U.S.-EU equivalency partnership.
"This agreement provides economic opportunities for certified organic farmers as well as additional incentives for prospective farmers," said Miles McEvoy, deputy administrator of the U.S. National Organic Program. "We look forward to working with our European Union counterparts to support organic agriculture."
The United States signed a similar partnership with Canada in July 2009, and additional equivalency-arrangement conversations have begun with South Korea, Taiwan and Japan.
Previously, producers and companies wanting to trade products on both sides of the Atlantic had to obtain separate certifications to two standards, which resulted in a double set of fees, inspections and paperwork, the U.S. Department of Agriculture said in a press release. The new partnership eliminates the double requirement.
During negotiations, the parties conducted on-site audits to ensure their programs' regulations, quality-control measures, certification requirements and labeling practices were compatible.
Although there are slight differences between the United States and European Union organic standards, the negotiators determined that their programs are equivalent, USDA said.
An exception has to do with the use of antibiotics. USDA organic regulations prohibit the use of antibiotics except to control invasive bacterial infections (fire blight) in organic apple and pear orchards. The EU organic regulations allow antibiotics only to treat infected animals. For products traded under the new partnership, certifying agents must verify that antibiotics are not used for any reason, USDA said.
Later this year, representatives from both markets will compare USDA's organic wine standards to the recently published EU wine standards and determine how wine can fit into the trade partnership. In the interim, traded wine must meet the requirements of the destination market.
More than two-thirds of U.S. consumers buy organic products at least occasionally, and 28 percent buy organic products weekly.