State's Tauscher Discusses Progress in Missile Defense
By Merle David Kellerhals Jr.
IIP Staff Writer
Washington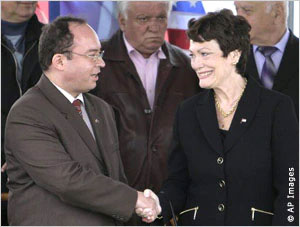 U.S. Special Envoy Ellen Tauscher says considerable progress has been made in implementing a four-phase European missile defense shield over the past year.
"The Obama administration has not only talked about supporting missile defense, we've actually done it," Tauscher announced at the 10th annual Washington Missile Defense Conference March 26. Tauscher is the U.S. special envoy for strategic stability and missile defense, and she previously was the under secretary of state for arms control and international security.
President Obama proposed a missile defense shield system known as the European Phased Adaptive Approach (EPAA), Tauscher said, and shortly after that the United States completed a ballistic missile defense (BMD) review identifying how best to meet that objective. At the November 2010 NATO Summit in Lisbon, alliance members committed to adopt missile defense as an alliance mission.
Obama chose to shift away from the deployment of 10 ground-based interceptors and a single radar site in Europe to a system using land- and sea-based SM-3 missile interceptors to provide protection for the United States homeland and NATO European allies. Tauscher noted in remarks to the Atlantic Council Missile Defense Conference in 2011 that the Obama system focuses on immediate implementation "now," rather than the previously proposed system.
Just a year ago work was going on to reach agreements to begin implementing the four phases it would take to build a missile defense system in Europe that is designed to protect against the threat posed by a rogue nation's missile system, she said. But since September 2011, there have been several major breakthroughs that are driving the program to completion.
First, Turkey has agreed to host the phase one advanced radar system, Tauscher said. Romania has agreed to host the phase two land-based SM-3 antimissile interceptor site, and Poland has agreed to host the phase three land-based interceptor site.
And in October 2011, Spain agreed to serve as the home port for four U.S. Navy Aegis destroyers at Naval Station Rota, about 100 kilometers northwest of Gibraltar. The port has hosted U.S. Navy ships since the early 1950s.
The Obama administration has put into place the key agreements needed to implement all four phases of the European missile shield, Tauscher told the conference.
"The next big demonstration of our progress will come at the NATO Summit in Chicago in May. We expect NATO to announce at the summit May 20 to 21 that it has achieved an 'interim capability,'" Tauscher said. That means the allies will start operating a missile defense system under a common set of rules and agreements.
"NATO has done tremendous work in preparing the way for this interim capability since the agreement in Lisbon to develop a NATO BMD capability whose aim is to provide full coverage and protection for all NATO European populations, territories and forces," Tauscher said. She said the United States is grateful to Turkey, Romania, Poland and Spain for their willingness to host elements of NATO's missile defense capabilities.
"After Chicago, we will continue to cooperate with our NATO allies to achieve full operational capability for NATO territorial missile defense, including all four phases of the EPAA as the U.S. contribution," Tauscher said.
Tauscher added that she has been working closely with her Russian counterpart to develop shared areas of cooperation, saying this missile defense system could be a "game changer for European security and for U.S.-Russian relations."
"Missile defense is one area where we can work together with Russia to end Cold War thinking and move away from Mutually Assured Destruction toward Mutually Assured Stability," Tauscher said.