Addressing the Human Rights of IDPs is Both a Humanitarian and a Development Imperative
Clustered Interactive Dialogue on the Human Rights of Internally Displaced Persons, and the Working Group on Arbitrary Detentions
Statement by the Delegation of the United States of America
Delivered by Jyl Kuczynski
UN Human Rights Council – 19th Session
Geneva
ARBITRARY DETENTIONS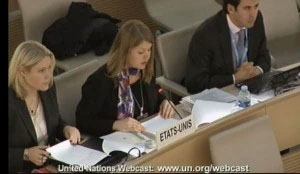 The United States thanks the Working Group on Arbitrary Detentions for your report. We commend your efforts in conducting country visits and highlighting cases within your mandate and appreciate the success you have had when focusing on specific cases.
The United States respectfully disagrees with the Working Group's proposed summary of ICCPR Article 9(3), which deviates from the language agreed by States parties, in particular by suggesting the view that "any detention must be exceptional and of short duration" or would otherwise be considered arbitrary or unjustified. Article 9(3) is expressly limited to those detained on criminal charges. The second sentence of Article 9(3) strikes a more nuanced and neutral balance between detention and other alternatives to guarantee appearance at trial. Article 9(3) must be understood by reading both sentences together.
The need for an abridged summary of Article 9(3) is unclear, and the United States is concerned that widespread adoption of such a summary would be problematic. The United States encourages the Working Group to use the clear language of Article 9(3) in its work. The United States agrees that anyone held in criminal detention has a right to prompt judicial review of their detention. However, we respectfully disagree with the Working Group's conclusion that the absence of a remedy of habeas corpus would per se result in denial of protection from arbitrary detention.
Moreover, in many respects, the minimum requirements concerning habeas corpus that the Working Group has articulated go beyond what human rights law requires. The United States encourages the Working Group to concentrate on specific cases and circumstances of arbitrary detention rather than on attempting to summarize or restate the related legal obligations of States.
Intervention on Report of Special Rapporteur on the Human Rights of Internally Displaced Persons, Chaloka Beyani
Thank you, Madame President.
The United States Government would like to thank the Special Rapporteur on the Human Rights of Internally Displaced Persons, Chaloka Beyani, for his report. We support the Special Rapporteur's efforts to advance the Guiding Principles on Internal Displacement and his work on mainstreaming the human rights of internally displaced persons (IDPs).
As the world continues to experience rapid urbanization, there are increasingly more IDPs living in cities. While some IDPs who live among the urban poor have similar needs, many IDPs also face specific protection problems related to their status as displaced persons and require interventions specifically targeted to address their needs.
We further agree that an IDP protection and assistance approach that considers the needs of host families and communities will help lay the groundwork for longer term peace and reconciliation efforts. One important way to minimize conflict between these groups is to ensure that IDPs have access to existing services to reduce the need for parallel assistance programs.
Finally, we agree that humanitarian and development actors need to engage with one another more systematically to pursue long-term solutions to internal displacement. Addressing the human rights of IDPs is both a humanitarian and a development imperative.
The United States encourages the Special Rapporteur to work closely with the United Nations High Commissioner for Refugees, which recently released a policy on refugee protection and solutions in urban areas. We would welcome the Special Rapporteur's views on where incorporating IDP protection strategies into development programs has worked well and how donors can better support these initiatives.
Thank you, Madame President.