Top U.S. Official Highlights U.S.-Africa Partnerships, Trade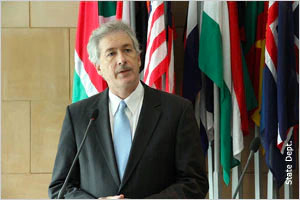 The United States has a strong commitment to Africa, and U.S. Deputy Secretary of State William J. Burns spent a week visiting several countries on the continent to reinforce that message.
Burns said he made the trip to emphasize U.S. ties to African partners and the commitment "to seize opportunities and address common challenges." He noted especially meeting with a cross section of young leaders, "who are engaged in dynamic work in every sector of society."
Speaking to journalists on the margins of the African Union's summit in Addis Ababa, Burns noted U.S. "work to support gains in democratic governance, sustainable development, economic growth and the peaceful resolution of conflict." He highlighted ongoing efforts to strengthen commercial ties between the United States and Africa.
U.S. activities in Africa are directed toward meeting the continent's short-term and long-term needs, Burns said. The humanitarian crisis in East Africa, where upwards of 13 million people need emergency assistance, has received $870 million in U.S. relief, while the United States also supports initiatives to help African farmers achieve greater food security and increase resistance to annual setbacks such as drought. The Obama administration's Feed the Future initiative supports that goal with a commitment of $3.5 billion in assistance over three years.
During the course of his tour, Burns visited a public-private project that demonstrates delivery of U.S. assistance for both the short and long term. At a health clinic run at Wagagai Flower Farm in Uganda, patients can receive treatment for health issues while the clinic addresses long-term health needs through vaccination and preventive health programs. The Wagagai clinic is just one clinic of more than 100 health facilities in Uganda supported by the United States. Health programs in Africa will receive $63 billion over five years.
Delivering remarks at the Wagagai clinic January 27, Burns said, "Clinics like this one are an essential part of the solution, and an essential part of a more hopeful future for Uganda."
Burns also went to Ghana, a country that is "setting the standard in economic development" with policies for economic growth, solid investment potential and responsible energy management. Because of these sound policies, Ghana is one of only four countries worldwide to participate in a new U.S.-backed program called Partnership for Growth, which aims to help nations speed up economic growth and sustain it.
Appearing with Burns on January 26, Ghanaian President John Mills welcomed the U.S. support his country has received.
"Our duty as a government is to make even the investment climate more active, more rewarding and in fact more accommodating," Mills said.
Burns also praised the contributions Ghana has made to international peacekeeping missions.
Burns visited Ghana, Uganda, South Sudan and Ethiopia.