Press Conference on Intellectual Property Protection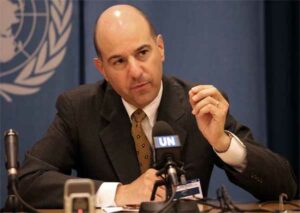 David Kappos
Under Secretary of Commerce for Intellectual Property and Director of the United States Patent and Trademark Office
Sharon Barner
Deputy Under Secretary of Commerce for Intellectual Property and Deputy Director of the United States Patent and Trademark Office

Geneva,
September 23, 2010
Opening Statements

Under Secretary and Director Kappos: Thank you very much for the introduction. I think I can now say good afternoon, just barely.
Thanks for joining us today.
Over the past year, now about 13 months since I've been at the USPTO as the Director, I've been very pleased with the work that the World Intellectual Property Organization and the individual IP offices have done to strengthen the global IP system.
As a member of the world IP community the USPTO, the United States Patent and Trademark Office, has been working cooperatively with other offices in both bilateral and multilateral settings in order to ensure that we continue to develop sound intellectual property policies and promote the protection of IP rights globally.
As you know, IP matters to the global economy today more than ever. IP really matters, because economic growth will be driven in large measure by innovation and by investment, and that means intellectual property.
That means we have a special responsibility to ensure efficient functioning of the global IP system and of our individual intellectual property offices for the various countries that operate and support WIPO.
One of the most serious problems that our offices face is the enormous backlog of patent filings. This backlog stifles innovation and delays the creation of new businesses and jobs. As Director of the USPTO I have the responsibility to ensure the development of a patent system that reflects the economic needs and interests of the marketplace and the responsibility is not just a domestic one in the United States, it's a global responsibility to champion and lead in that intellectual property system development.
Our approach focuses on the following –I hope simple–and key objectives. One, establishing new efficiencies in the global patent system by reducing duplication of work performed by IP offices everywhere. Second, creating an environment that stimulates innovation and investment in the transfer of technology. Third, enhancing the quality and reliability of patents. Lastly, providing an early determination of patent rights, and that means speeding up in our examination and granting of patents.
As you are all aware there are numerous so-called worksharing and acceleration programs that are being hosted and proposed by various patent offices. Some of the meetings going on here in Geneva right now are focused on advancing such programs. We would like to take this opportunity to share with you some information that the United States has prepared in connection with our own various acceleration and work-sharing projects and proposals.
As Director of the USPTO I'm frequently asked by various members of the global patent community about our worksharing and acceleration programs, and to address these questions we've compiled a couple of simple charts that explain our major acceleration and worksharing initiatives, and hopefully you've got copies or will get copies of those. One of the charts simply identifies all of our domestic programs–instances in which all applicants may request accelerated examination. The other chart outlines the major worksharing initiatives that the United States Patent and Trademark Office has underway. It includes some information on programs administered by the Japanese Patent Office and the European Patent Office as points of comparison. We hope these charts will be helpful to you.
I wanted to mention just a few other things briefly. As further explained in the charts, the USPTO is collaborating with other offices on cooperative work sharing initiatives to reuse to the maximum extent possible the work done by other offices in order to avoid duplication and expedite patent examination. One of those programs in which we're seeing significant success is called the Patent Prosecution Highway, or the PPH. It's a major worksharing program. Under the PPH applicants can request what's called fast track examination in one office based on a determination of patentability in another office.
Users are telling us that they are extremely pleased with this program as it significantly lowers their average pendency, meaning the time it takes for them to get patents, and the cost of operating their patenting operations. We currently have PPH agreements with 12 partner offices and we're in the process of establishing additional ones and adding to that network.
At the USPTO we have nearly 4,000 PPH cases through our system so far.
We intend to double that number again next year, so we're making really substantial progress in getting literally thousands of patent applications through this network and increasing our efficiencies.
Given the success of the PPH program, in January of this year the so-called trilateral offices–that's the EPO, the JPO and the USPTO–expanded the PPH program to include patent cooperation treaty work products. The USPTO is very encouraged the results so far. PPH has demonstrated now that it complements the PCT and enhances value for patent applicants. And the PPH has shown that through cooperation between patent offices, genuine time and cost savings can be achieved that benefit especially patent applicants, that's the global innovation community, and our offices also.
In fact this week I've met with my counterparts to continue building on the PPH and the PCT successes that we've experienced so far.
Just one or two other things, and then I'll stop here soon. I wanted to mention initiatives underway with a couple of particular offices. While we're working on new programs and projects to improve work share generally, we're also meeting with our counterparts. I met with President Cornelia Rudolph Schaeffer of the German Patent and Trademark Office this week to continue and strengthen our partnership with the German Patent and Trademark Office.
In April of 2009 we started our PPH pilot with the German Patent Office.
At our bilateral meeting this past Tuesday we signed a new Memorandum of Understanding with the German Patent and Trademark Office. This MOU focusing on enhancing work sharing efforts by exploring the re-use of German search reports in PPH cases. The German Patent and Trademark Office has a very high quality in their search services and we think it provides another opportunity for worksharing between our offices.
We're also delighted that we're able to execute a Memorandum of Understanding with Rospatent this past June during the visit of Deputy Under Secretary Sharon Barner to Moscow, and that establishes a framework for bilateral cooperation between the Russian Patent Office and the USPTO.
I'm extremely pleased to announce that our offices have reached an agreement recognizing Rospatent as an International Searching Authority, a so-called ISA, and International Preliminary Examining Authority, or an IPEA, under the Patent Cooperation Treaty. So we signed that agreement earlier this week. This will benefit U.S. applicants as it will provide them with an additional choice at a lower cost.
I'm also very pleased that we have started a pilot in the PPH with Rospatent on September 1, and we're looking forward to seeing results from that initiative.
Lastly, I wanted to mention that the United States and the USPTO are committed to using the patent system to promote initiatives for the development of technologies that are priorities to the Obama administration. Late last year we began a pilot that allows for the acceleration of applications in so-called green technologies and just this week we commenced an inquiry into ways in which we can incentivize the development and dissemination of technologies that address humanitarian needs. Among these technologies that would be eligible for the program are treatments for tropical diseases and diagnostic medical tools, crops with higher yields or better nutritional value, and treatments for sanitation and clean water among others.
Participants would qualify for the proposed pilot in two ways–by making their patented technologies available to impoverished populations for humanitarian use, or by making their patented technologies available to researchers who are developing technologies that address humanitarian needs.
Under the proposed pilot program qualifying applicants would receive fast-track ex parte reexamination vouchers, because patents under reexamination are often among the most commercially valuable patents.
We feel the right to a fast-track reexamination could be a very valuable right, allowing a patent owner to affirm the validity of his or her patent more quickly and less expensively.
Now the voucher could be used on any patent owned by the patent holder or transferred on the open market, further adding to its value in the marketplace. A voucher for fast track reexamination of a patent is a very valuable incentive for entities to distribute humanitarian technologies through licensing or other means, and it's our hope that this new program will incentivize innovators to develop technologies that will benefit those in need.
Now I'd like to welcome USPTO Deputy Director Sharon Barner to highlight some more agency priorities. Sharon?
Deputy Under Secretary and Deputy Director Barner: Thank you, Dave, and thanks again to all of you for being here.
IP protection, as Director Kappos has said, is frequently a global issue and this week I have been working with the IP5 offices to further cooperation and collaboration. This week we had a meeting of the IP5 Deputies here in Geneva.
The IP5 consists of the five largest patent offices in the world. The Chinese Patent Office, the Korean Patent Office, the European Patent Office, the Japanese Patent Office, and the USPTO. Filings at these offices constitute close to 80 percent of the world's patent filings, and as a consequence these offices face special challenges of increased patent filings ad growing backlogs.
As Director Kappos mentioned earlier, much of the filings among the offices represent the same or similar inventions. It's estimated that about 250,000 applications per year could be reutilized by another office. To realize more efficiencies and to avoid duplication of efforts, the IP5 office has come together to create foundation projects and more cooperation.
As a result of the cooperation the ten foundation projects that have been identified relate to issues that are operational and relate to the examiners. Some of these include creating collaboration tools, including common classifications, access to common documentation, examiner training, and things of that sort. The foundation projects are critical to enhancing work sharing among the IP5 offices.
In addition to the foundation projects the offices have been reviewing their own practices with a few towards implementing programs in their own offices to accelerate adoption of best practices. For example, the European Patent Office has recently announced that it will report search histories, whereas they didn't before. The USPTO is actively looking into new approaches to classification.
While the foundation projects will yield important progress over time, acceleration of some aspects will provide more near term results that will benefit all offices as well as the IP community worldwide.
The next IP5 heads of office meeting is scheduled for April 2011 in Japan. We hope through our work and collaboration with the various IP5 offices that we can facilitate a more efficient patent process along the way.
The other key thing I want to talk to you about is the U.S. Patent and Trademark Office's strategic plan. We're extremely encouraged and excited by the progress we've made this year in Geneva with our partner offices. We realize that in order for the USPTO to be the most effective at home and abroad, that we have to have clear priorities and initiatives, and those include both our domestic and international initiatives.
We recently set about to create a new strategic plan, our 2010-2015 Strategic Plan. It has key operational domestic and international aspects to it. Those include reducing our own backlog and pendency, improving the quality of our examination, and demonstrating global leadership and all aspects of IP policy development.
With these goals that we have now set out, we will focus on the management and implementation phase. During this phase you will see that we have a clear set of priorities and objectives as relates to both our domestic and international issues. We'll have scheduled reviews of our progress, ongoing data collection to measure our success against our stated goals, regular opportunities to adjust the plan as data and experience are collected. We will have a lot of transparency into these issues. They will be located on our Web site.
The achievement of our high level goals supports everything else we do at the USPTO. Our core values, our critical mission to support innovation and global competitiveness that drives the U.S. economy and creates jobs, and, finally, our vision of helping to lead the world in all aspects of IP protection and policy.
The USPTO is committed to working internally and externally with our partners to continue to reduce backlogs, improve quality and improve IP policy and enforcement.
Thank you.
Under Secretary and Director Kappos: Thank you very much, Deputy Director Barner. Now we'd like to open the floor up for questions.