Ambassador Donahoe: U.S. Priorities at the 15th Session of the Human Rights Council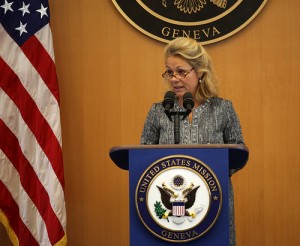 Eileen Chamberlain Donahoe
US Ambassador to the Human Rights Council
Remarks at Breakfast with the Press

September 8, 2010
U.S. Mission to the United Nations in Geneva

Ambassador Donahoe: Thank you all for joining us here this morning for breakfast.  We very much appreciate it.
As you know, the United States took its seat at the Human Rights Council a year ago.  As we head into the September session I just thought it would be a good opportunity to reflect on why we're here, what we have accomplished, and also to share our priorities for the upcoming session.
The United States decision to seek membership at the Human Rights Council reflects our deep and abiding commitment to the protection and promotion of human rights.  It also makes manifest the President's personal commitment to multilateral engagement.  We are now fully engaged at the Council and deeply committed to enhance its work and functioning along with our many many excellent partners there.
As the first Ambassador to the Human Rights Council from the United States, I have articulated three goals.  Some of you may have heard these before.  First is to make a difference on the ground to human rights defenders and victims.  That will always be our job number one.
Second, to enhance the efficacy of the Council in addressing crisis and chronic human rights situations.
Third, to work cooperatively with other nations to lead the Human Rights Council toward fulfillment of its potential as the lead entity within the UN system for protecting and promoting human rights.
Our modus operandi is to cooperate and collaborate with other members wherever that opportunity presents itself.  We see fundamental rights such as freedom of expression, freedom of association, women's rights, and the protection of human rights defenders as the core of our agenda here.
So what do we have to show for our first year?  With active US leadership, the Council has addressed some of the most egregious human rights violations, specifically authorizing international mandates to closely monitor and address human rights situations in Burma, DPRK, Cambodia, and Sudan.
In June, as you know well, probably, the US co-led a cross-regional effort with 55 other nations to criticize the deplorable human rights situation in Iran and to express solidarity with the victims and human rights defenders on the anniversary of the contested Iranian election.  We've worked cooperatively with governments such as Haiti, Somalia, and Kyrgyzstan whose nations have experienced times of crisis and who have sought help from the Council to strengthen their human rights capabilities as their countries rebuild.  And we partnered with the government of Afghanistan to build international support for efforts to prevent attacks on Afghan school children, especially girls, who seek to be educated.
Along with our international partners and the NGO community we have tried to bring a new tone of constructive engagement to the Council and have worked actively to bridge regional and ideological divides.
At the same time we have been consistent in protecting our fundamental principles such as freedom of expression and freedom of religion.
Let me now share with you some of the priorities we have of the upcoming 15th session of the Council.
The first priority I would like to mention is freedom of association and assembly.  This priority comes directly from Secretary of State Clinton who has underscored the importance of this fundamental freedom to all of us.
The United States is now working very hard with a cross-regional group of countries to establish a mandate on freedom of association which is the only fundamental freedom in the UN Universal Declaration of Human Rights that does not have a mandate.  So from our perspective it has been somewhat approached as a "second class" type of right, and we would like to remedy that by putting our focus on that in this coming session and working hard with our partners to establish a new mandate.
The message that we have emphasized in our outreach to date on this subject is that freedom of assembly is, at the end of the day, the fundamental pillar along with freedom of expression, for protecting all human rights.  We have found this theme to resonate across the board in region after region in particular context after particular context.  You see the light in the eyes go on when people think about what's happened in their own countries and what this has meant to them.   So this is something that truly is a universal right, and we're going to work with our partners to make sure that it takes its place with the other fundamental freedoms at the Human Rights Council.
I should mention we have several important publicly committed co-sponsors for that already.  Mexico, Nigeria, Czech Republic, Lithuania, and we have others from every other region that we are fairly confident we will have their full support.
A second priority I want to underline here today is another one that stems directly from the Secretary's priorities which is the protection of women's human rights.  And in this session we will be following the lead of our very important co-sponsors and partners, Mexico and Colombia, whose proposed resolution would create a mandate for a special rappateur on discrimination against women based on the recommendation from the OHCHR.
We are also very pleased to be supporting Colombia and New Zealand in their follow-up resolution to the landmark September 2009 resolution on maternal mortality.  So those two initiatives will underscore Secretary Clinton's priority on women's human rights.
The third priority I'd like to underscore for you is the renewal of the mandate for the Sudan.  As you know, in June we had a three month renewal of the mandate which was somewhat of a stop-gap measure designed to keep the mandate in place until the special rappateur was able to come to Geneva and report to us.
So we see this as essential, that this mandate be renewed.  There will be resistance, but we are emphasizing this is not the time for the international community to take its eyes off the human rights situation in Sudan.  We're hoping that that argument resonates as well.
A few other countries that we hope to focus on include Somalia, Cambodia and Haiti and the US will be working on those countries to support renewal of mandates in all three cases.
Finally, I'd like to highlight an important side event that we will be working on related to LGBT rights, and it will take place on September 17th.  We are cosponsoring this event with the Netherlands and Ireland among others, and our goal is to bring attention to the human rights challenges faced by lesbians, gays, bisexual and trans-gender folks and we are really pleased that we will have participation by Archbishop Desmond Tutu.  By video, he will be speaking to the group at this event.  We are very pleased to be part of it.
Looking beyond September, I just want to say a couple of words about the fact, it's no secret that there are many critics of US multilateral engagement and participation in the Human Rights Council, particularly in my domestic territory.  And I haven't found that in Geneva, but there are a lot of critics back home.  There is heavy pressure to show some results from our engagement here.  Some are still arguing that the United States should not have joined the Council in the first place, and that we should pack up and go home now.
I personally disagree with this idea vociferously.  I believe very deeply that if the United States is not at the table, there will be a vacuum of leadership that will get filled by the voices of others with whom we disagree.  And I believe that if the United States wants to lead on human rights, we have to show up and fight for what we believe in.  That is what we are here to do.
With that, I thank you.
Moderator: The Ambassador is willing to take a few questions.
Question: Good morning Ambassador.  You said that the protection of women's human rights is one of your top priorities.  We heard reports from the DRC about mass rapes, and the UN admitted that failure to protect the women.  How do you want to address this case in the Human Rights Council?  Do you want to ask for a special session of the Human Rights Council?
Ambassador Donahoe: First off, let me say we're all disgusted by the reports.  That's the first point that should never be lost. Our focus, again, should be on the victims.  We all know that the Security Council is seized of this matter, and Ambassador Rice spoke yesterday about the follow-up to the US request for the Security Council to have another session addressing this.  I'm sure in New York Ambassador Rice and the Security Council will be addressing the role of the UN peacekeepers and others in how they can improve in protecting citizens of different countries, women in particular, going forward.
In terms of the Human Rights Council, I can tell you we are about to go into session and this news has to be on everyone's mind and we will be discussing it.  In fact I was discussing it with some other Ambassadors last night.  So I can guarantee conversations will be ongoing about this subject.
Question: Good morning. I'd like to follow up on my colleague's question.
In your introduction you said that the Human Rights Council should have primacy on human rights, to protect [inaudible] and abuse of victims.  The new Chairman promised the other day on the DRC issue there had not been a single request for a special session even though the information is in the public domain now on the rape of 179 women, some mass raped by six or seven soldiers in the presence of their families.  But not a single request has come in for a special session.
Is it the Security Council in New York that has priority on human rights, or is it the Council here?
Ambassador Donahoe: I can speak to our priorities here. The priority for us is human rights.
Question: But [inaudible].
Ambassador Donahoe: The New York forum, the Security Council is responsible for peace and security issues, and this particular case also involves the role of peacekeepers.
Ambassador Rice has tried to remind people, the focus should not be on processes at the UN because the peacekeepers were not the ones perpetrating these horrific crimes, and we should all remember that.  And as I said, at the Council we are here now and we will remain seized of this issue.  It has been underscored for us and there will be continuing consideration of this going forward.
Question: Ambassador, you mentioned that if the US is not here at the Council, [inaudible] then there would be a vacuum of leadership.  Do you feel that the European Union, its member states, are not capable of taking leadership as they tried to before the US…
Ambassador Donahoe: I am absolutely thrilled to have partnership with the Europeans and to have their leadership here.  What I'm commenting on is the failure to have US leadership and the importance of US leadership.  I think we also play an important role.  If we claim to value human rights, we need to step up and do the work and be here.  We need to exercise our free speech and protect the rights we put a priority on.
So no commentary on the EU other than to say we greatly value their partnership and their leadership.
Question: I'd like to ask you if you're planning to introduce a resolution or some sort of a process regarding Iran.  In particularly whether you can deal with a particular case, this abhorrent situation of the woman that for some reason vengeance will never end, the stoning of this woman.  Whether that is something that will come out.
And as a follow-up, it seems to me that since the Council has been established, more and more countries have been let off the watch list, and you barely have any more work to do.  Is it possible to add country violators to the list?  Will that be possible when the final four or six or whatever disappear?  Is that —
Ambassador Donahoe: On your first question on the particular case of the woman who was going to be stoned to death, I have personally been involved in this case, and throughout the summer, when she was still at risk of being stoned.  As you know, the United States has put a lot of attention onto this particular case.  It's a very delicate case because we didn't want to risk harm to the woman herself because of our speaking out.  But I've made it a priority and I'm considering including it in my own statement on the floor.  Whether or not it's something the Council will do as a whole, I can't comment on how that will shake out yet in this session, but I can tell you I have made it a priority, that particular case.
I'm not sure which list you're referring to in the second part of your question.
Question: It's not really a list.  Like Sudan is still sort of barely on the watch list of country violators, and there are a few more.  But a number of countries such as Equatorial Guinea and so forth have been absolved of their sins and are no longer on the Human Rights Council watch list.  It seems to me there are fewer and fewer of them.  They're sort of disappearing.
I'm wondering, can you beef up the list of country violators?
Ambassador Donahoe: This actually dovetails with the earlier question about the impact of US leadership.  We have made it really clear that keeping a country-specific focus on the most severe human rights violators is a top priority.  Some other countries don't like a country-specific orientation, and we think that in appropriate cases of the most severe atrocities, we need to exercise our leadership by conveying that the Human Rights Council cannot take its attention off cases such as this.  That's a very important reason why I think we need to be here.
Question: First of all, a clarification.  When you said earlier that you were going to be having conversations about the DRC rape case, does that mean this will all be behind the scenes, or will you actually bring it up under the general item for a [inaudible]?  And a question about the two proposals, the resolutions that you make [inaudible] supporting the quality of women.  Do you expect them to sail through given that they repeat what is already stated in the Universal Declaration of Human Rights?  Or do you expect [inaudible]?
Ambassador Donahoe: We never expect anything to sail through.  We always hope things will sail through.  So I'm not going to speculate.  But we feel fairly good about where things stand.  And on what types of conversations and where we'll speak out, again, I'm not going to speculate on where the conversations will take us yet.  I can just tell you, I will be having these conversations on the DRC.
# # # #