HRC – Report of the UPR Working Group on Spain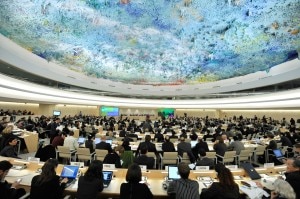 UN Human Rights Council
THE UPR WORKING GROUP EIGHTH SESSION
Consideration of UPR Reports
Report of the UPR Working Group on Spain
Statement by the Delegation of the United States of America
May 5, 2010
Thank you, Mr. President.
The United States warmly welcomes State Secretary Jose de Francisco and the Spanish delegation to the Working Group of the UPR. We have carefully considered the information the delegation has provided in its national report and presentation this morning.
Spain has an admirable human rights record. We are particularly pleased that in October 2009, Parliament approved a new Asylum and Subsidiary Protection Law for those who do not meet the criteria for refugee status but who could face torture or other abuses if returned to their countries of origin.
The United States notes that Spain continues to struggle with the issue of unaccompanied migrant and refugee children. Reports by the National Ombudsman have indicated problems with the care of minors in some refugee facilities. In addition, an October 2008 report by Human Rights Watch stated there were approximately 3,000 to 5,000 unaccompanied foreign children from North and West Africa in Spain.
The United States welcomes Spain's decision to adopt a "Human Rights Plan of Action," committing itself to 172 measures, many related to the abolition of racism and intolerance. We would be interested in learning of government plans for implementation particularly with regard to timeframes, indicators and budget allocations.
Discrimination against Roma remains a problem in access to employment, housing, and education. The Romani community in Spain, with an estimated population of 700,000, experienced substantially higher rates of unemployment, poverty, and illiteracy than the general population. The United States compliments Spain on its successful hosting of the "2nd European Summit on Actions and Policies in Favor of the Roma Population" during its Presidency of the European Council, and on the approval April 9 of a national Action Plan for the Development of the Roma Population. We look forward to learning of progress of the Action Plan's implementation.
Based on these concerns the United States makes the following recommendations:
1. That the government implement the National Ombudsman's call for authorities to ascertain the age of younger immigrants, so that the most appropriate protection can be arranged.
2. That the Government collect and publish statistics on hate crimes and to develop a specific national action plan against racism and xenophobia.