World Water Day – Access to clean water is fundamental to life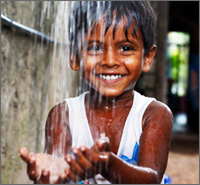 March 22 is World Water Day, which aims to raise awareness around the world about the importance of access to clean, safe water. An international day of observance, World Water Day grew out of the 1992 United Nations Conference on Environment and Development (UNCED) in Rio de Janeiro.
As worldwide demand for water steadily increases due to industrialization, agricultural needs, and the demands of an ever-expanding global population, safe drinking water becomes more precious and harder to find.
"On the occasion of World Water Day, the United States reaffirms its commitment to maximize the impact of water-related investments by both private and public actors, continue as advocates for those whose water supply and sanitation needs are greatest; and target our programs to the most vulnerable rural and urban populations in the developing world," said Ambassador Betty E. King, United States Mission, Geneva.
More than a billion people in the developing world do not have access to clean water, and in many cases rely on water from polluted rivers, lakes and unsafe wells or piped water supplies. Sanitation is widely regarded as the most effective public-health intervention at our disposal. Yet today 2.6 billion people, including almost one billion children, live in areas without basic sanitation.
Contaminated water, unsanitary living conditions, water shortages, and consequent poor hygiene kill almost 1.7 million children each year and cause about 4 billion cases of diarrhea. Millions more people were put at significant risk of exposure to water-borne infections, such as cholera, typhoid fever and dysentery. Contaminated drinking water is also a threat to people living with HIV/AIDS.
Those without safe water and sanitation are likely to be poor, hungry and malnourished. The increasing scarcity of safe water, combined with rapid worldwide population growth and environmental degradation, is also contributing to biodiversity loss and food insecurity. Women and girls are disproportionately impacted by the lack of access to safe drinking water and sanitation. Women and girls often spend hours a day collecting water, foregoing other economic and education opportunities, and girls often drop out of school because of the lack of adequate sanitation.
The Senator Paul Simon Water for the Poor Act of 2005 makes access to safe drinking water, sanitation, and hygiene, within the broad context of sound water resources management, a clear objective for U.S. foreign assistance.
In 2008, the United States committed more than $1 billion worldwide for water and sanitation related activities in developing countries, providing nearly 4.6 million people with first-time access to an improved drinking water source and more than 2.1 million people with first-time access to sanitation.
While many U.S agencies and departments contribute to international water and sanitation efforts, the U.S Agency for International Development (USAID) and Millennium Challenge Corporation (MCC) provide the vast majority of U.S support. USAID and MCC obligated $390 million and $429.0 million in 2008 respectively, for water and sanitation-related activities in more than 75 countries.
Read more about USAID programs that deliver life saving water and sanitation services to vulnerable populations.
Success Stories:
A City Finds a Windfall in Efficiency
Water Project Helps Reduce Ethnic Conflict
Getting a Drink of Water in the African Desert